Leo Filonius is a excellent swordsman from Z.E.O.N.. He and his best friend, Vayne, were teleported to Avataria and joined the rebel forces together. 
Leo is featured as one of sanofa's Secondary Characters in Avataria #2.  
Biography
Edit
To be continued...
Description in details
Edit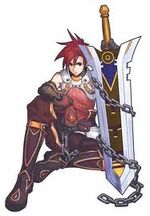 Leo has spiky red hair, and wears a special armor, which can change in shape and appearance. He also carries a large broadsword.
Leo is protective and caring, especially for Vayne.
Leo is an excellent swordsman, and strong enough to swing his heavy broadsword like an ordinary sword.
Trivia and notes
Edit
Ad blocker interference detected!
Wikia is a free-to-use site that makes money from advertising. We have a modified experience for viewers using ad blockers

Wikia is not accessible if you've made further modifications. Remove the custom ad blocker rule(s) and the page will load as expected.